The Slovak Vice-Prime Minister and Minister for Economy, Róbert Nemcsics, has appointed today to their posts a new Chairman of the Board of Directors of Slovenska elektrizacná prenosova sustava, a. s., Stefan Bugar, and new members of SEPS, a. s., Board of Directors, Roman Krasnansky, Stanislav Hudcovsky, and Bohumil Markech.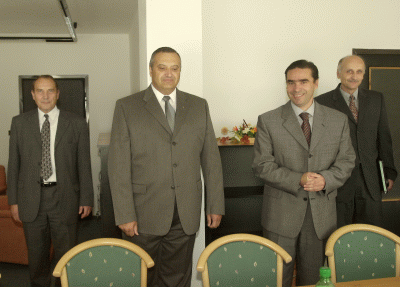 The new Board members have been voted in by the Slovak National Property Fund under the decision of the sole shareholder of Slovenska elektrizacna prenosova sustava, a. s., Bratislava on 30 June 2003, having recalled four Board members by the sole shareholder´s decision. From the previous management Frantisek Pecho has ramained in the position of member of the Board of Directors.

Minister Nemcsics appreciated the hitherto results of the company which has seen dynamic development over a brief time. He underlined the need to enhance communication and information between the company and the Ministry not only in the area of strategic plans but also operative events. Especially now the most important task in energy sector is to deal with the launched privatisation of Slovenske elektrarne and all related facts such as the fashioning of new relations and entities – market operator and the like.
In Bratislava, on 4 July 2003


Alena Melicharkova
spokeswoman
Slovenska elektrizacna prenosova sustava, a. s.